Pomeroy Senior Apartment Housing
HACIA Green Corner
Submitted By:
Architrave Ltd.
Project Name:
Pomeroy Senior Apartment Housing

Chicago, Illinois

LEED Platinum Certified

Project Client:
Chicago Housing Authority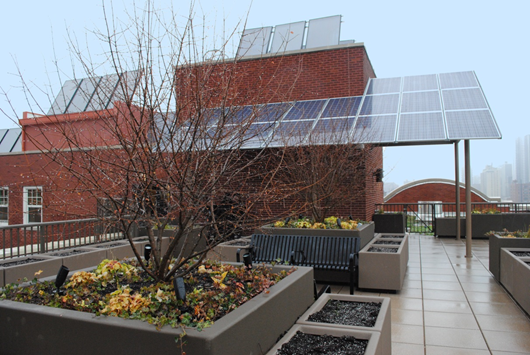 Project Background:
Originally constructed in 1921, the Pomeroy is a vintage limestone and masonry building, located in the historic north side Bryn Mawr district.   The building's renovation was completed in 2011 and has since become the senior housing flagship project of CHA's "Plan for Transformation".  Aside from providing accessible and efficient senior residences, the renovation included a recreation center, library and management offices, landscaped courtyard, rooftop terrace with garden plots for the residents, and new entrance on Kenmore Avenue.  The project successfully integrated the senior community within the adjacent Edgewater neighborhood and connected the residents to nearby lakefront amenities.
The design was completed in collaboration with Pappageorge Haymes; with Architrave's role focusing on the exterior architectural elements; including façade restoration, development of the interior courtyard, rooftop terrace, and surrounding site architecture.  The project recently completed LEED Platinum Certification. Notable exterior green elements include:
·      
 

the use of low-e coated krypton gas filled windows;
street side planters constructed of galvanized steel gabbions and filled with reclaimed concrete cores;