HHDC's Affordable Community Energy-Phase I
HACIA Green Corner
Submitted By:
Tropic Construction Corp.
www.hispanichousingdevelopment.com
Project Name:
Affordable Community Energy-Phase I

Project Client:
Hispanic Housing Development Corp. (HHDC)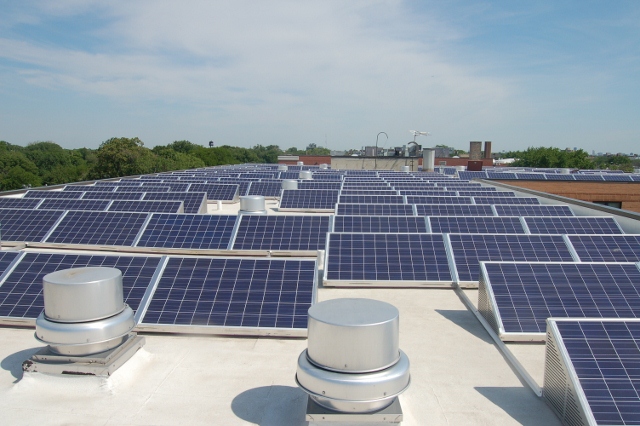 Project Background:
Project Client: 18 multifamily buildings owned by HHDC will be retrofitted with photovoltaic arrays and combined heat-power units.
HHDC's subsidiary Affordable Community Energy (ACE) has begun to implement a $6 million project to install renewable energy solutions and energy/water efficiency measures at thirteen of HHDC's affordable multi-family developments containing over 1,300 apartments throughout Chicago (Phase I). Phase I will be a test case for the strategies that will be used by ACE in expanding its services to the rest of HHDC's portfolio and, ultimately, to other affordable and workforce housing portfolios.
The value proposition of the HHDC ESCO consists of the following key components:
The technical capabilities to identify and evaluate the optimal set of energy and water efficiency measures and renewable energy solutions for a given portfolio of properties – and then to design, build and manage those improvements.
A financial toolkit that allows it to pay for most or all of the improvements in exchange for a share in the value of the energy / water saved or energy produced for a period of time.
HHDC/ACE has as its goals to:
Reduce consumption of electricity, natural gas and water, thereby reducing the environmental impact of the affordable housing units it serves.
Resolve policy roadblocks through changes to HUD, IHDA and other regulations.
Reduce the cost of electricity consumed by properties and low-income tenants.
Help to shift the source of energy from fossil fuels to renewable sources.
Engage our communities in sustainability activities.
Help to preserve and improve existing housing stock.
Strengthen the financial condition of affordable housing (this is particularly important for this category of housing given the upward pressures on costs caused by age, energy, etc., and the downward pressure on available subsidies).
Green Features Include:
Photovoltaic arrays for a total of 600 KW. Las Moradas building, pictured above, has been completed and has already produced 8 MWh.
Combined heat-power heating units that cogenerates heat and electricity at 92% efficiency with CO2 emissions 70% below a coal fired power plant. First unit installed at Las Moradas building.