Meet the 2019 HACIA Scholarship Award Recipients
The HACIA Scholarship & Education Foundation (HACIASEF) awarded up to $45,000 in scholarships to eight deserving students studying in the construction field. The scholarships were presented at HACIA's 40th Annual Awards Banquet Held at the Chicago Hilton on Monday, February  18, 2019.
The scholarships are made possible through ongoing individual, corporate and foundation donations. The 2019 Scholarships Recipients are: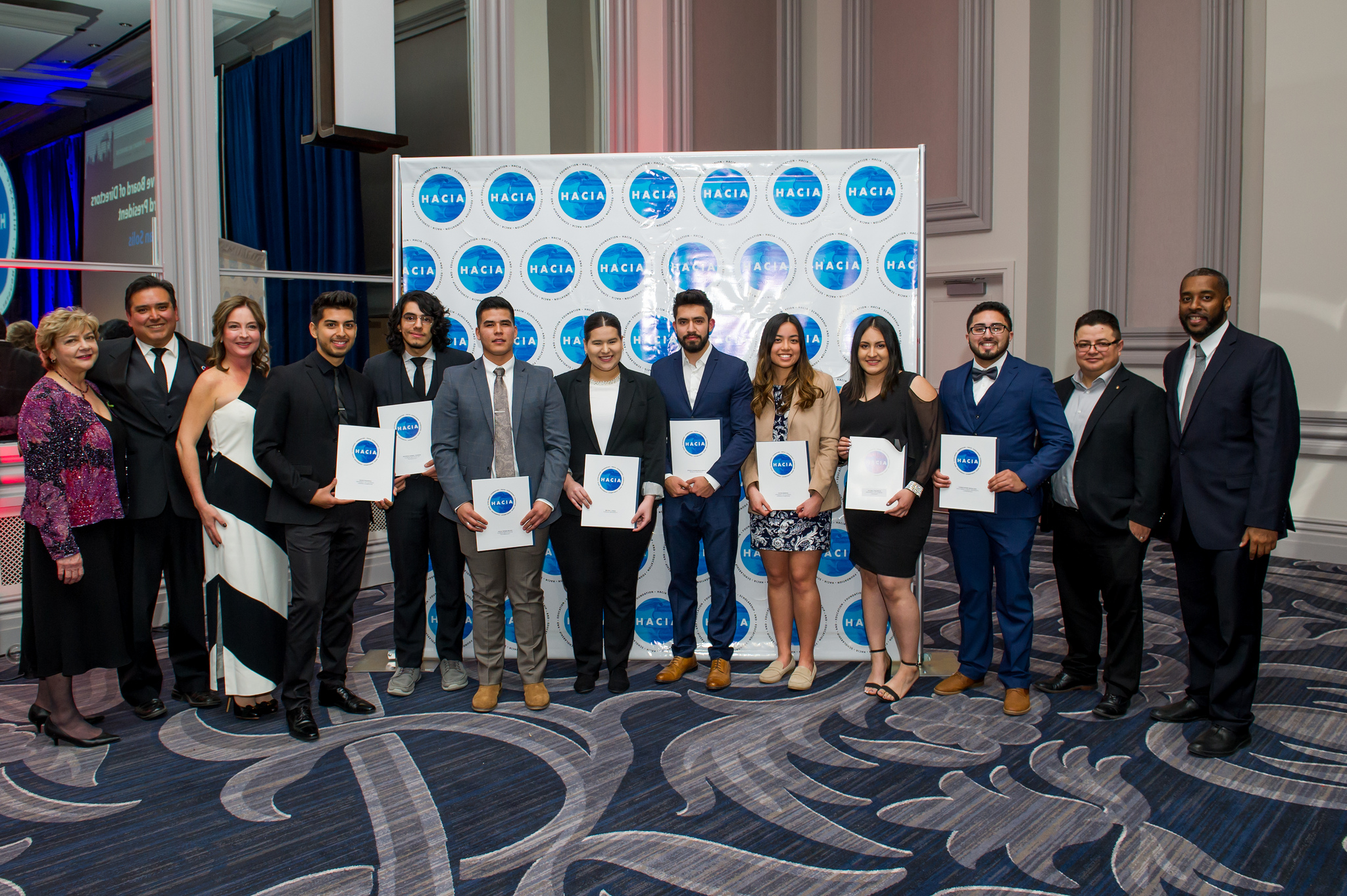 ---
Jesus Covarrubias is studying Civil Engineering at Bradley University. During high school, Jesus received high honors in mathematics, which led him to pursue a career in engineering. When he first moved to the United States, he was fascinated with all the towering buildings he saw compared to the small houses he grew up seeing in his hometown of Michoacán, Mexico. The older he got, the more inspired he became to pursue civil engineering and during the summer of 2018, Jesus interned at Millennia Professional Services. His goal for the future is to graduate from college, start his own business and help organizations like HACIA.
Richard Claidez is studying Architecture at Illinois Institute of Technology. Richard grew an interest in architecture during high school and became hooked in learning all about this field. During his studies, he has seen all sides of architecture from single family home design to developer style, to low-income and high-end construction. What ties all of these together and the idea of creation with all the possibilities is what really got Richard hooked in this field. He believes the best part of architecture is not only to make his dreams come true, but make other people's dreams a reality.
Julio Cesar Reyes is studying Architecture and Construction Management at the Illinois Institute of Technology. Born in Zacatecas, Mexico, Julio lived in a small masonry home with very limited exposure to architecture and construction opportunities in his community. When his family migrated to Chicago, he was exposed to an array of rich architectural sites in downtown Chicago and became mesmerized by how massive all the buildings were. This led him to pursue a degree in the field and has interned at S Mechanical, Inc and Studio ARQ, Inc.
Mayra J. Pena is studying Engineering & Management at Purdue University. Mayra's main goal as an engineer is to improve the world for the generations that is to come and leave a good example for other female minorities who dream of pursuing a career in construction. From a young age, Mayra knew she wanted a career that was based on team work, design and product development. As she got older, she discovered that engineering was what she always dreamed of. Her grandfather is her biggest inspiration to pursue a career in construction after he survived a bridge collapse due to poor engineering. This led her to have the determination to become the best engineer and project manager she can be in order to prevent disasters like what her grandfather experienced from occurring again.
Olivia Barron is studying Engineering at the University of Illinois at Urbana-Champaign. Olivia wants to make an impact where it is needed and pursuing a degree in engineering allowed her to turn that into a reality. Her goals are geared towards creating a greener environment by implementing more sustainability in the workplace. She hopes to overcome all the adversities that comes with being a woman and a minority in the field of engineering and believes she can achieve success no matter her background.
David Figueroa is studying Architecture at University of Illinois at Urbana-Champaign. Architecture has always fascinated David. Growing up as a Mexican-American with immigrant parents, he was exposed to two diverse countries that allowed him to assess different lifestyles, languages and cultures. He has been able to capture images of these cultures and designs through photographs and drawings and hopes to improve the future, both aesthetically and effectively with his passion for design. His biggest dream is to leave his own mark on the evolving world of architecture.
Aylen Pacheco is studying Architecture at University of Illinois at Chicago. Aylen's passion for architecture started at the age of six. She drew layouts of her whole house to constructing a replica of the Parthenon. Aylen won a competition that allowed her to experience Frank Lloyd Wright's studio in Wisconsin and spent a week living among graduate students and learned about Wright's various techniques she used to design her prairie style buildings. Aylen has a passion for helping communities through the use of design and founded a non-profit organization, Human Scale. Her organization provides positive impact in communities by designing and building projects for those communities that deliver a mutual civic benefit for their members. She has helped in designing and building two stations of elevated planter beds for disabled veterans in the Englewood Veterans Garden and hopes to continue in other parts of the community.
Christopher David Regalado is studying Architecture and Construction Management at Southern Illinois University-Carbondale. Christopher found himself fascinated with bridge, dam and airport developments that he switched his major from Civil Engineering to Architecture. Through helping his grandfather design a single-family home to helping with the construction of sheds, decks and drywall installation, the feeling of looking back at what he created gives him the inspiration and passion to continue his path in architecture